10 Rooms - Restaurant - Bar - Swimming Pool
Lonely Beach - Koh Chang - Thailand
It is in the heart of Lonely Beach, Koh Chang, in a unique setting with a warm and friendly atmosphere. Peter and Aemsira offer hotel-style rooms with all modern facilities at very affordable prices.
We are located close to the nightlife of Lonely Beach and the beautiful white sandy beach is within a few minutes walk. With a great nightlife and a range of activities all within a short distance, there will be no shortage of things to see and do during your stay in Lonely Beach.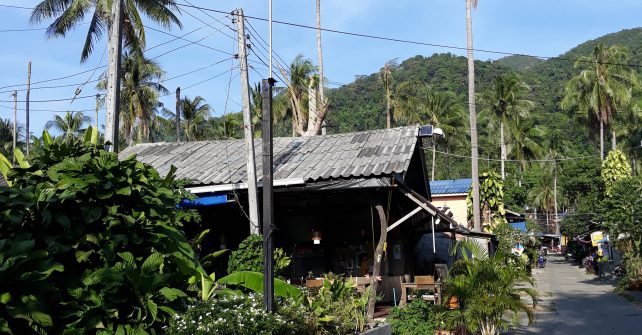 Whether you prefer to explore the local attractions on the island, or lay around on the pristine beaches, or even take a dip in our swimming pool. 
There is something for everyone here at Carpe Diem Guest House – Lonely Beach Koh Chang.
• All the rooms are equipped with a king size double bed, air con, hot shower in a private bathroom
• Large fresh water swimming pool with sun shades. We have installed a Nanotech sanitising system which uses UV and Ozone instead of chlorine.
• Free WiFi  is available in all rooms and public areas.
• Bar / Restaurant with pool table , darts and big TV for all your sport.
• Lock box big enough for laptop / overnight  bag.
• Satellite TV in all rooms
• Complimentary toiletries and bottled water
The island of Koh Chang is a tropical marine national park. With over 70% of rainforest, Koh Chang is the best-preserved tourist destination in Thailand.
Koh Chang is also the third largest island of Thailand after Phuket and Koh Samui. Koh Chang is very hilly and mountains on the west side. There are a wide range of local attractions, including:
• Island Diving Areas
• Walks/treks in a tropical jungle
• Laze on the white sandy beach of nearly 1km long!
• Elephant rides
• Discover the waterfalls with a short ride on a scooter
• Dance away the night in one of the islands vibrant disco's
• Sample a variety of local restaurants and bars